Course Information
Mill Pond Golf Course is a beautiful, 18 hole championship golf course located in Medford, NY on Long Island. Mill Pond offers the public golfer a rare treat: incredible golf coupled with superb service and all the amenities one would expect at a private club. The links style layout situated on over 200 acres is reminiscent of classic Scottish courses. Designed by Course Architect William "Buddy" Johnson, Mill Pond opened in 1999 and is recognized by Audubon International for Environmental Excellence. Online Tee Times can be made up to 7 days in advance.
Scorecard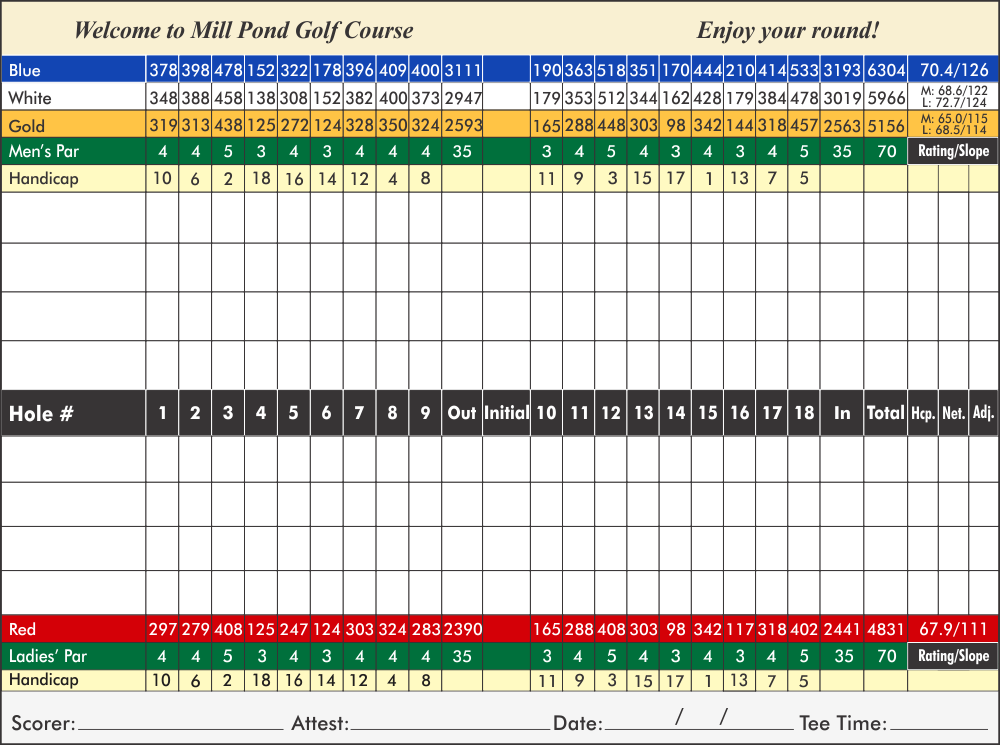 Scorecard by bench craft company
Golf Course Rules and Regulations
Only Golfers who have paid Greens fees are permitted on the Golf Course.
Each Golfer must have their own set of Golf Clubs.
USGA Rules of Golf govern all play.
White stakes and perimeter fences define out-of-bounds.
All lakes are considered lateral hazards unless otherwise marked with yellow stakes.
Fescue and tall grass should be played as a lateral hazard.
Golf Cars must be kept out of the fescue grass, bunkers, mounds, and remain at least 30 feet from Greens at all times when not on cart paths. Hand Carts must stay off Tee Boxes and at least 25 feet from Greens. Keep your entire body inside of the golf car at all times.
Mill Pond strives to maintain a reasonable rate of play for all of our Golfers. Please keep pace with the group in front of you, allow faster groups to play through, wave up groups behind you on par 3 holes and abide by instructions of Golf Course Rangers.
It is each golfer's responsibility to replace divots, rake traps and repair ball marks on the Greens.
No personal coolers are permitted on the Golf Course.
All Golfers are expected to wear appropriate Golf attire. No jeans, no tank tops, tee shirts, halter-tops or other inappropriate clothing is permitted. Shorts must be hemmed and of appropriate length.
Mill Pond is a soft spike facility; no metal spikes or cleated shoes are permitted. Flat-soled sneakers are permitted.
Golfers play at their own risk and should be aware of their position and the position of other golfers at all times.
In case of lightening all Golfers should return to the clubhouse immediately.
Please maintain Mill Pond Golf Course as it were your own. Thank you.